Final leg of Toscano Enduro Series in Castiglione della Pescaia.
The secretariat, the race paddock, the area dedicated to the sponsors of the circuit and teams are in the central Piazza del Orto Lilli, during the days of Saturday 15 and Sunday, October 16th.
Here is a bit of technical information from the official website www.toscanoenduroseries.it
Date: October 16, 2016
Location: Castiglione della Pescaia (GR) - Paths Castiglionesi (Punta Ala Trail Center)
Organization: The MTB-asd
Subscriptions: MYSDAM
Regulation: link http://www.toscanoenduroseries.it/index.php/regolamento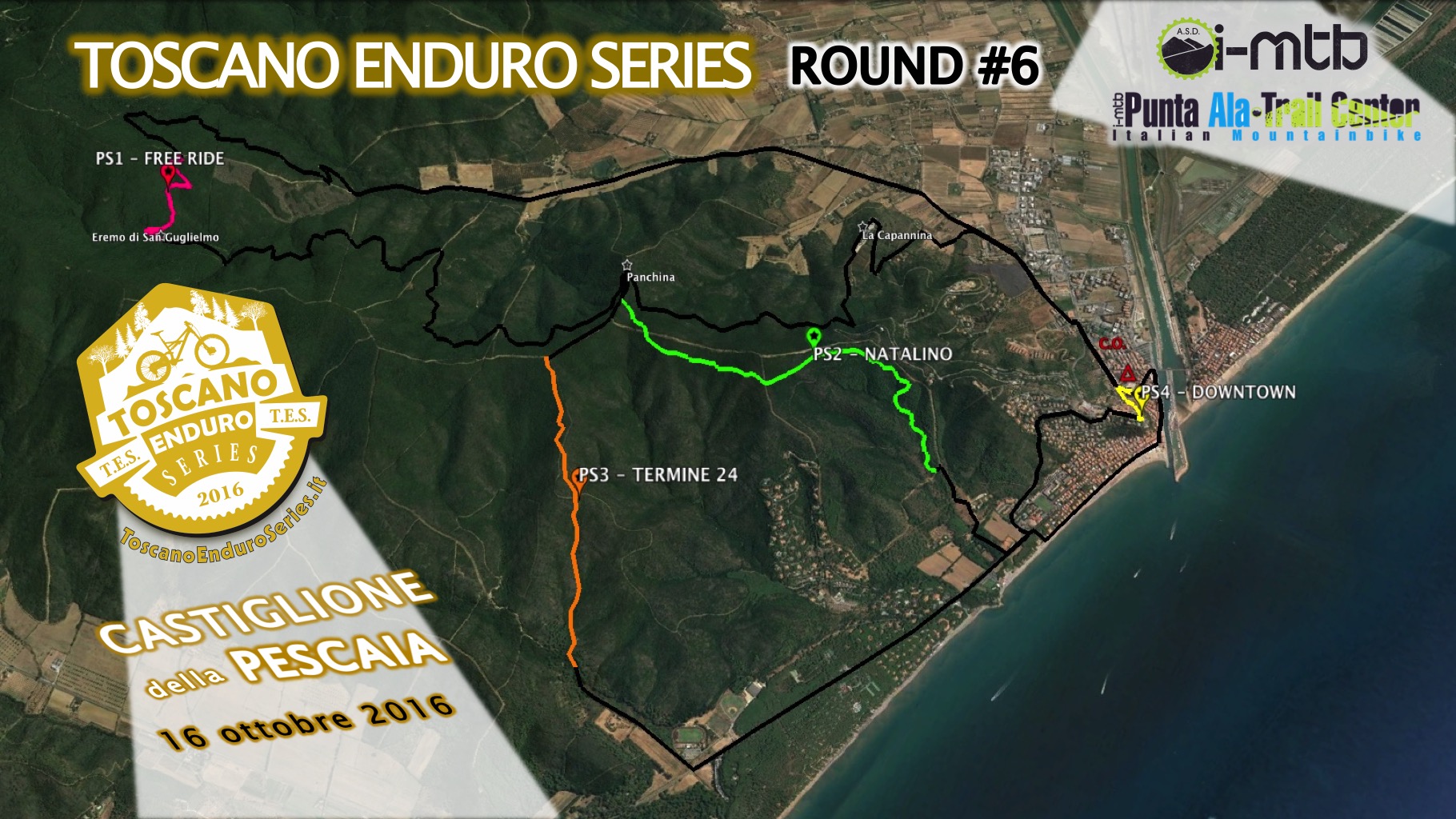 Race course:
total distance of ~ 30 km
total climb 1,000 meters
PS 4.

PS1 FREERIDE: length ~ 0.9 km, 300 m height difference
Among the most representative tracks of "Hiking Trail Castiglionesi Area". Try very short but tough and tenacious special, which is characterized by the presence of rocks and technical sections where especially the racers will find satisfaction. The route passes through the woods next to the hermitage of San Guglielmo.
PS2 NATALINO: length ~ 2.9 km, 300 m height difference
The trail of the most famous, very technical, where they found all the fundamental discipline of Enduro. By a long stretch of narrow path, you get into a downhill where physical strength and technical guide are tested.
PS3 TERMNE 24: length ~ 1.9 km, 320 m height difference
The characteristics of this path are: rocks, sharp turns and jumps all be tackled with the highest technical order not to lose the trajectory.
PS4 DOWNTOWN: (in old town) ~ 0.500 km length, 50 meters height difference
city ​​became famous track with the stage of EWS 2013. It winds opening within the medieval walls of the city village of Castiglione della Pescaia, through the narrow and steep cobbled streets to the square downstream ..
Important notes for the tests:
PS1, can be tried ONLY AFTER 11:00 am (because of hard hunting stalking)
PS4 (downtown town), can be tried Only on foot the day before the race (due in redidenziale environment safety)
C.O .: scheduled between the PS2 and PS3
Students and Junior: PS3 and PS4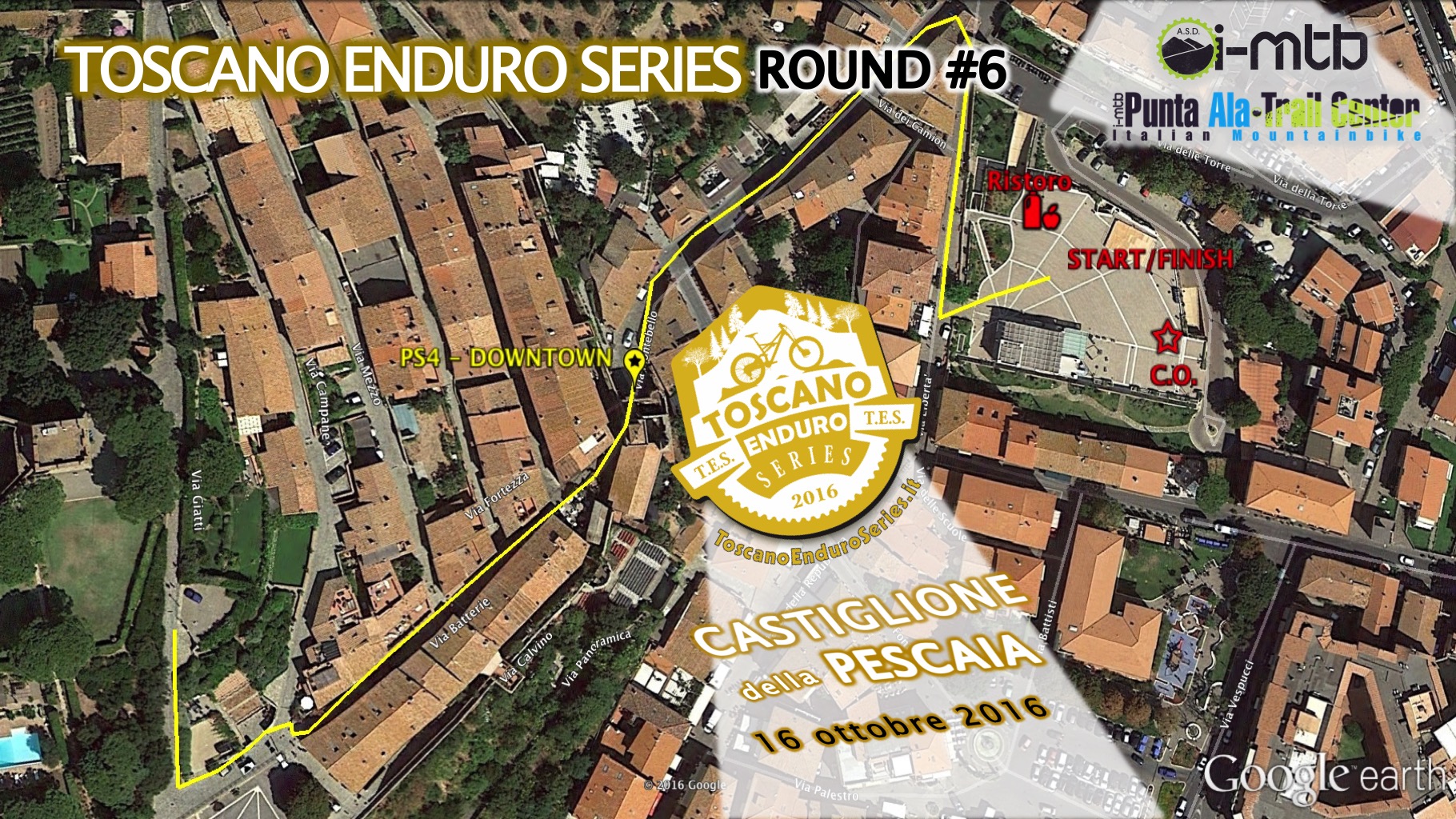 COMPETITION PROGRAM
Saturday, October 15, 2016
15:30 to 19:00: Opening registration and license control
Sunday, October 16, 2016
7:30 to 9:00: Opening registration and control license;
10:00: Start from the paddock in Piazza del Orto Lilli
from 13:00: Pasta Party (courtesy of the Nature Center - presenting coupons).
16:30 Awards.
---
Contacts:
PuntAla Camping Resort, Loc. Punta Ala, 58043 Castiglione della Pescaia GR
Tel. +39 0564 922294 – Fax. +39 0564 920379 (booking 9h00-17h00 Mon-Fri; info 24h everyday)
www.campingpuntala.it - www.facebook.com/puntala